#RELEAF INNOVATIONS
About Us
Re-Leaf is a brand under ICF group of companies established in the year 1991. Re-Leaf focuses in the design, development manufacturing & services of innovative infrastructures for portable sanitization, infrastructure & environmental management sectors.
"We believe in the power of human thoughts and the immense possibilities it can achieve. It is our duty & responsibilities to dedicate it in pursuit of excellence and universal wellbeing."

Sambhunath Sasikumar
Managing Director, ICF Group.
Products.
Find out what products we can offer your business.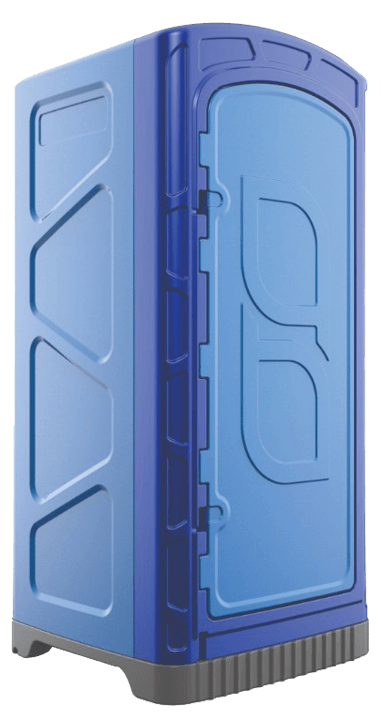 #RENTAL
Find the best Portable Toilet for your next Event.
Re-Leaf is a one-stop solution for all your sanitation rental requirements.
We provide portable toilets, treatment systems, chemical toilets, handwash stations, urinals, shower cabins, etc. for short or long periods in places that do not have the fixed infrastructure.
We also provide 24*7 operation, maintenance, waste management services, etc. to ensure compliance to standards.
Contact us for your requirements.
The foreign tourists especially had a great time at Munnar as part of the Neelakurunji blooming season. The toilet infrastructure provided was excellent and very well maintained as per international standards. The portable treatment systems helped us comply with the pollution control board standards. The managers were very resourceful and quick to take decisions. Overall the experience was very good.
Thanks, Re-Leaf ( ICF Team ) for helping us complete the job on very short notice.
Thanks to Re-Leaf for the timely completion of 500 units Biotoilets project at Sabarimala. The whole project was very well managed and completed.
Re-Leaf assisted us by deploying portable toilets for flood-hit villages in Kerala. They were reliable and dedicated. We appreciate them for being a responsible organisation at times of great adversities.
Highly professional and dedicated team of Re-leaf was very prompt in meeting our requirements.The toilets are sturdy durable and easy to install for immediate usage.
Re-Leaf has supplied us with portable toilets made of HDPE for our work sites. The product quality is highly satisfactory and easy to transport.
There was an urgent need for toilets in Covid Quarantine centers initiated by HAL in Bengaluru. Re-Leaf supplied quality toilet cabins on a war-footing basis and complied with the schedule. Thanks to team Re-Leaf. Best wishes.
#RECENT ARTICLES
Our latest Blogs
Explore our blog for insightful articles, personal reflections and ideas that inspire action on the topics you care about.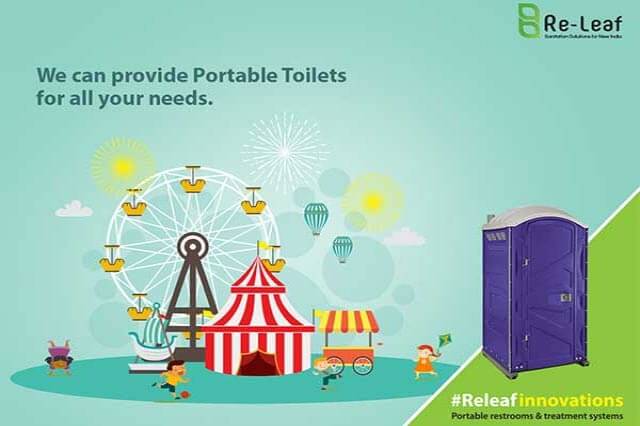 Toilet: Ek Prem Katha star Akshay Kumar has sponsored a mobile toilet near the Juhu…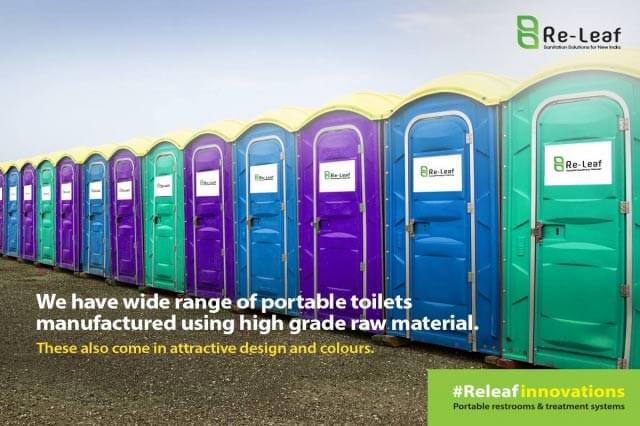 Of all the inventions made in the recent past, portable toilets have been one of…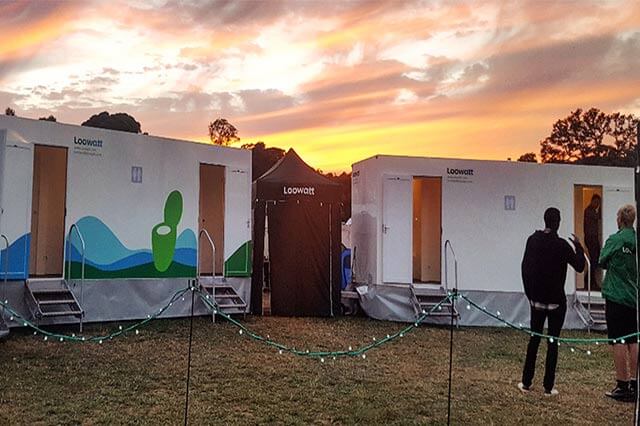 University of KwaZulu-Natal's Pollution Research Group (PRG) in South Africa plans to take an innovative…
#Get In Touch
Contact us to find the best Portable Toilet for your next Event.
If you have any questions, feel free to contact us at +91 9746427901
If you have any questions, please feel free to drop us a line. We'll get back to you as soon as we can. That's a promise!
Provided by experts to help challenge activities
Complemented with peer perspectives and advice
More than 450,000 client's interactions